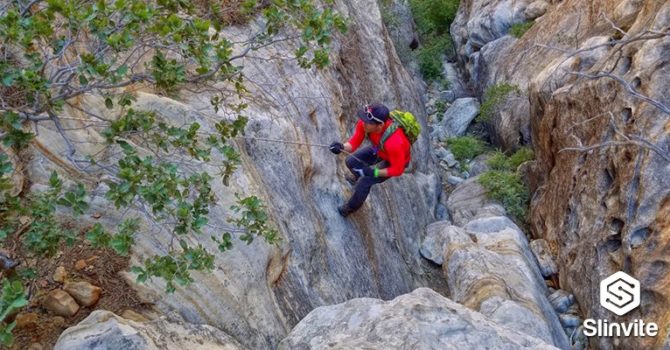 Icebox Canyon Red Rock Scramble
As the summer heat is beginning to rise and take over life in Las Vegas, NV, a Slinvite hiking group did an early morning scramble in the Red Rock National Conservation Area. To beat the heat the crew met at 7am and shared a ride into the scenic route. Being earlier in the morning we got a front row parking spot at the Icebox Canyon area. This was my first time joining this group which described itself as a super scramble with more advanced hiking. The Slinvite had some great descriptions and ratings so I knew I was in for something challenging, a little bit dangerous, but with a group that was also experienced.
Hiking Distance: 5 Miles
Hiking Time: 4-6 Hours
Elevation Gain: 1,800 Feet
Class: 4 of 5
Difficulty: 5 of 5
Exposure: 5 of 5
Danger Level: 5 of 5
Pace: Moderate
It was suggested I bring gloves for the ropes and that the day was going to be filled with things a little more related to technical mountain climbing. It was just what I was looking for.
We started on the normal Icebox Canyon trail, one that I had done many times before, but at a much quicker pace. It was obvious at this speed that the normal trail was not our focus. As we approached the typical falls destination we made a hard left and started climbing, and climbing quick. By using foot holds, hand grabs, cracks, and narrows we climbed elevation in no time at all. I rapidly got more comfortable with what my hiking boots could handle, and with what incline angles I could climb without slipping. We scaled tight areas that needed a strong grip to pull ourselves upward, as well as large, fallen boulders that past guides had secured climbing ropes for us to use. Honestly I was on cloud 9.
The path was very steep and I called it nature's stairmaster. As a Red Rock veteran it was exciting to be in new territory with breathtaking views and to have a feeling that I was entering areas only a few had likely reached before. As we neared the peak, we happened upon a family of big horn sheep. They noticed us and escaped down the slope with speed and mountaineering skills that seemed unreal. As the group reached the final mountaintop destination we found a large, comfortable rock and had lunch discussing past adventures and stories from active endeavors.
After the break, I was re-energized and prepared for the descent. I was curious how it was actually going to work because many of the areas we had just climbed had been a serious challenge to scale, and in my head I wasn't totally sure how we would get down. Luckily our guide had plenty of pointers and knew the route back. With a couple more resting breaks compared to the climb upward, we made it back to the normal Icebox Canyon trail. By this time it was about 11:30am and the general public could be heard echoing around the canyon walls. As we marched on the trail we passed lots of groups just starting their hike with no knowledge of where we had just gone and the route we had conquered.
By the time we returned to our vehicles I was completely confident that I had found my new thing. I love hiking and rock climbing, and this was the next step that encompassed both. I now have the option to be a member of this great group of new people, and to join in future adventures; and yes my legs were going to be sore for sure.

---
---
By: Slinvite Category: Hiking, Outdoors Tags: Las Vegas, Nevada, Red Rock, Scramble
---